The Boboli Gardens will be the place to the fourth edition of the exhibition market called "Boboli's Fragrances", from the 6th to the 9th of May 2010. The exhibition will be about the tradition of Florence's perfumery industry.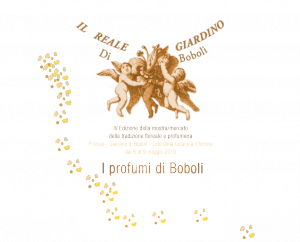 The event, the only one of its kind, will give perfume makers the chance to show and sell their creations during a three-day festival. The historic and art spaces of the Boboli gardens will highlight fragrances and styles, retracing the most important and timeless moments of that kind of production.
Visitors will find on show perfumes, candles, soaps, air perfumes, essential oils, cosmetics, herbal extracts, flowers, fragrant plants, accessories and so on.
In the nearby Museum of Zoology and Natural History "La Specola", another very interesting exhibition will be set up. Photographs, drawings and narration through images will emphasize some of the most hidden and evocative secrets of the environmental heritage of our region.
The opening of the exhibition will be on Thursday 6th in May 2010. It will end on the 30th of June 2010.
More information (only in Italian) at: http://www.profumidiboboli.org/
—
From next spring on, if you're planning a pleasant weekend in a B&B in Florence, you can take the chance to visit one of the most interesting and entertaining exhibitions scheduled in the Tuscan capital.